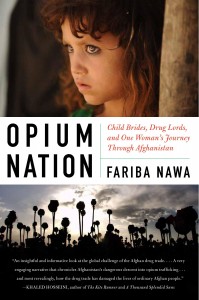 An Afghan-American journalist is the first to offer a revealing look inside women's lives involved in Afghanistan's drug trade. From the farmer to the smuggler and child bride, Nawa discovers the underworld of the multi-billion dollar narcotics industry while she revisits her own family's deep roots to the land.
-Finalist in the 2012 PEN USA literary awards for research nonfiction.
-A bestseller in Australia
 -Internationally acclaimed
 "An insightful and informative look at the global challenge of Afghan drug trade. Fariba Nawa weaves her personal story of reconnecting with her homeland after 9/11 with a very engaging narrative that chronicles Afghanistan's dangerous descent into opium trafficking, its impact on the U.S. campaign, and most revealingly, how the drug trade has damaged the lives of ordinary Afghan people."
   — Khaled Hosseini, author of The Kite Runner and A Thousand Splendid Suns
 "A journalist whose work has appeared widely, Nawa deftly sketches the geopolitical nightmare that is today's Afghanistan, but the book's real strength is her detailed, sensitive reporting of individual people's stories."
— The Boston Globe
"Powerful. . . . Nawa draws rich, complex portraits of subjects on both sides of the law . . . Nawa's work is remarkable for its depth, honesty, and commitment to recording women's stories, even when it means putting her own safety at risk. She writes with passion about the history of her volatile homeland and with cautious optimism about its future."
— Publishers Weekly
"Nawa ably captures the tragic complexity of Afghan society and the sheer difficulty of life there. . . . Her assured narrative clearly stems from in-depth reporting in a risk-laden environment."
— Kirkus Reviews
"This is a thoroughly engaging read by an author with a compelling voice working with a dramatic and tension-filled topic."
— San Francisco Book Review
"The stories of Opium Nation … offer a rare and contradictory glimpse into the drug trade that is the economic life blood of Afghanistan. This is the actual narrative that the media and politicians should be grappling with."
 — UK Guardian
 "Insightful, often confronting, occasionally beautiful, invariably tragic narrative that takes you inside not just the labyrinthine complexity of the opium trade, but that of Afghanistan itself."
        — Australia's Canberra Times 
 "Unlike other writings before by journalists, politicians or academics, [Opium Nation] is told from the human side, from its Afghan actors."
 — Spain's El Pais 
"The book untangles like a poetic novel, but it's a courageous report that doesn't spare anything from the truth, a reality made of characters who move within and beyond the boundaries of law: women ready to sacrifice their own life to affirm their rights, young pushers, criminals, infiltrators who populate modern Afghanistan dominated by drug trafficking, which fuels terrorism and supplies the largest markets of the world."
 — Italy's Daily Mirror (Specchio Quotidiano)
 "Like most people, I know a bit about what is going on, but these close up stories are very uncomfortable and unputdownable."
— New Zealand's Otaga Daily Times
This website will be updated with recent information soon!To order the book, please click here. For upcoming events, click here. 
To download Opium Nations' press kit, please click here.